The Connection App for Business
Love Where You Work!
If you can raise your brain's level of positivity in the present, you will obtain what science calls the happiness advantage. In fact, every single business outcome improves when you are happy or feeling positive.
Shawn Achor — Harvard Professor,
and author of The Happiness Advantage
Employee Benefits Packages
An Excellent Workforce Benefit: Supporting Your Employees' Relationships
Giving your employees access to The Connection Apps through your workplace benefits package will create tangible benefits.
When someone is struggling at home, it makes it harder for them to be successful at the office. Modern society is busy and it is easy to forget to connect with the people you care about. It's no wonder that the number one reason given for why marriages end is "we drifted apart".
Ensuring your employee's home-life is great even during your most demanding times is what The Connection App for Couples was built to accomplish. The Connection App habit building platform helps them to develop and integrate the skills that lead to deeper connection between people so that important relationships don't accidentally end.
About Our Team Wellness Challenge
Top Employers Invest in Workforce Mental Health.
Many forward-thinking organizations struggle to find easy ways to improve the well-being of their workforce in a meaningful way. We designed a wellness challenge based on the latest understanding of neurobiology to help you do that.
Team Wellness Challenges
The Team Wellness Challenge is designed to help people integrate the Connection Habits into their workday. Each time a person practices one of the habits a positive moment is generated making the experience of work more enjoyable.
Implement in about 1 hour
Managing complex programs or spending large amounts of money on external coaches are typically not sustainable even if they can be effective. The Team Wellness Challenge requires less time to implement and manage as the in-app Challenges are both self explanatory and self guided.
How it works
Participants will integrate the Connection Habits into daily routines so your workplace will be filled with powerful moments of positivity throughout the day. It only takes a few minutes each day to build a habit that will continue to deliver results long after the challenge has ended.
Each participant will:
Take a self assessment to determine which habits to work on
set up customized habit-based action prompts
select Challenges for habit specific tips and info
track their successes daily
earn chances to win exciting prizes
review and monitor their overall progress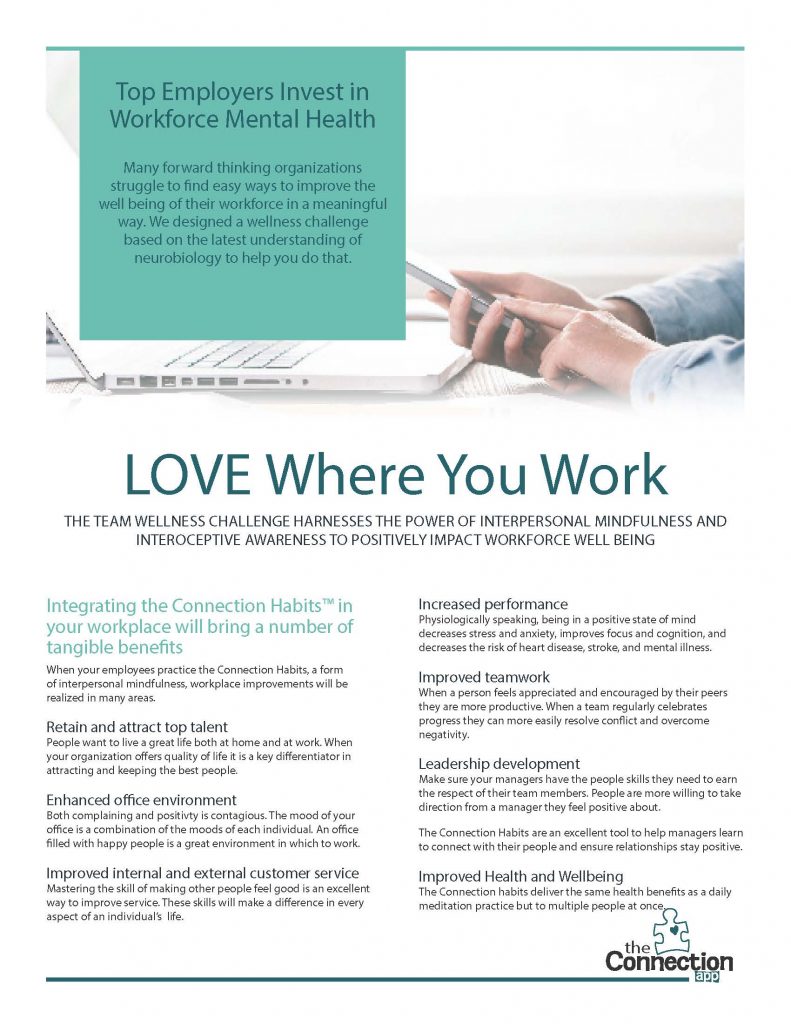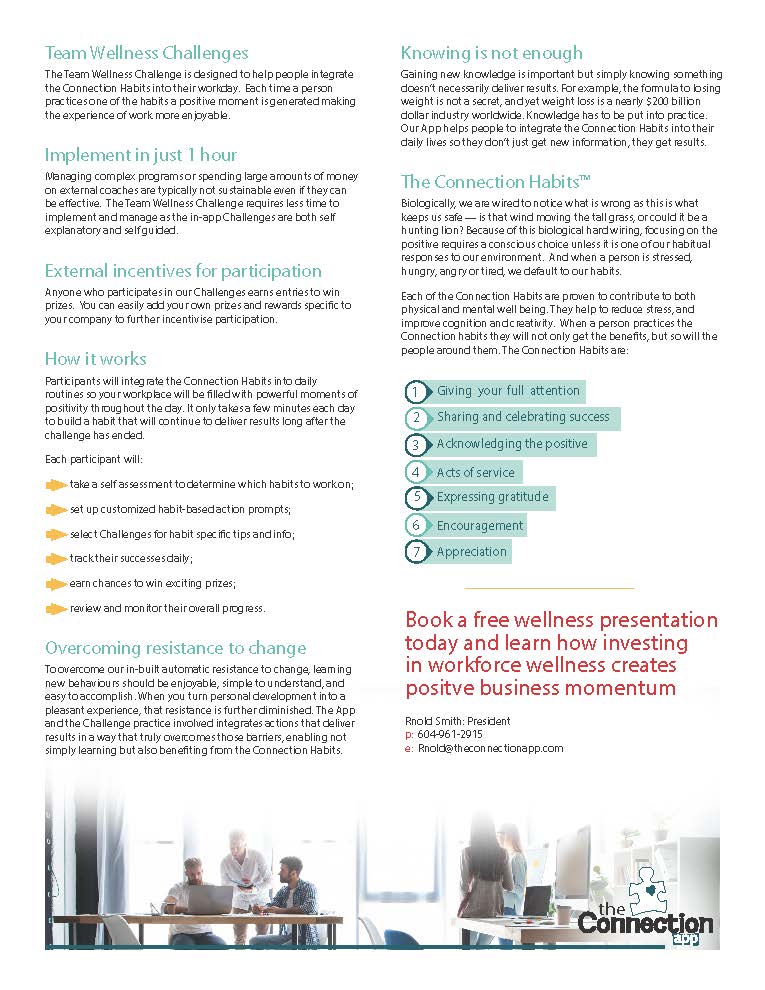 Co-Brand Our App for Your Organization
A co-branded app will allow your organization to offer custom people development programs — a strategic and cost-effective way to build employee loyalty and create a more effective and positive work environment.
Having your own app makes it easier to address some of the biggest challenges facing business owners, executives, and people managers. Companies like Coca-Cola have invested hundreds of thousands of dollars creating their own people development apps. Projects typically require an intense effort from a team of experts for months or even years. That's the hard way.
Why not simply find a customizable platform, add your branding to it and have your own people development app in a matter of weeks for a fraction of the cost?
Take a Challenge
For a Chance to Win!
Participate in Challenges — and create a deeper & more meaningful connection with your partner — and be entered to win prizes.
Earn one prize draw entry every time you complete and save a Celebration Reflection ("Celebrations") and your Connection Practice Ratings ("Ratings") in the App. Record your Celebrations and Ratings for 5 consecutive days in one week and you will earn an additional 5 entries. Record them for 7 consecutive days in one week and you will earn yet another 5 entries.
No purchase necessary. 
Download our Apps for your
choice of mobile device:
Ready to accept the Challenge?