The Connection App for Business 
Love Where You Work!
Our programs create happy, productive teams by reducing workplace conflict, enhancing teamwork and by transforming individual and organizational habits.
Create Transformational Service
From Transactional Service to Transformational Service
Help your team become expert at making people feel appreciated and cared for. By deepening the understanding about the actions proven by science to generate a positive physiological response in others, your team will be able to easily turn a transactional experience into a transformational experience. One where each person leaves the interaction with a positive feeling. Our customer service programs help people develop the habit of interpersonal mindfulness and understand how to integrate the Connection Habits into their interactions with your customers and each other. Many forward thinking organizations understand that when you enhance the employee experience, you also enhance the customer experience and that is what our program will do for you.
Luminary Learning Co
An optional add on to our customer service module has been developed in partnership with Luminary Learning Co. Their founder, Jeffrey Victor, comes from a 5 star hotel background and he helps you understand the concepts needed to deliver that level of service, no matter what industry you are in.
The optional add on includes daily tips on:
How to Navigate Conversations with Unhappy People
How to Express Empathy Effectively
The Words That Delight and the Words That Disappoint
Managing the Unspoken Communication of Body Language (even over the phone)
Luminary Learning Co also delivers virtual or in person workshops in these areas which can be tailored to fit your needs in terms of length and content.
About Our Team Wellness Leadership Challenge
Create Happy Productive Teams
Many forward-thinking organizations struggle to find easy ways to improve the well-being of their workforce in a meaningful way. We designed a wellness challenge based on the latest understanding of neurobiology to help you do that.
Team Wellness Challenges
The Team Wellness Challenge is designed to help people integrate the Connection Habits into their workday. Each time a person practices one of the habits a positive moment is generated making the experience of work more enjoyable.
Fast Implementation
Managing complex programs or spending large amounts of money on external coaches are typically not sustainable even if they can be effective. The Team Wellness Challenge requires less time to implement and manage as the in-app Challenges are both self explanatory and self guided.
How it works
Participants will integrate the Connection Habits into daily routines so your workplace will be filled with powerful moments of positivity throughout the day. It only takes a few minutes each day to build a habit that will continue to deliver results long after the challenge has ended.
Each participant will:
Take a self assessment to determine which habits to work on
set up customized habit-based action prompts
select Challenges for habit specific tips and info
track their successes daily
earn chances to win exciting prizes
review and monitor their overall progress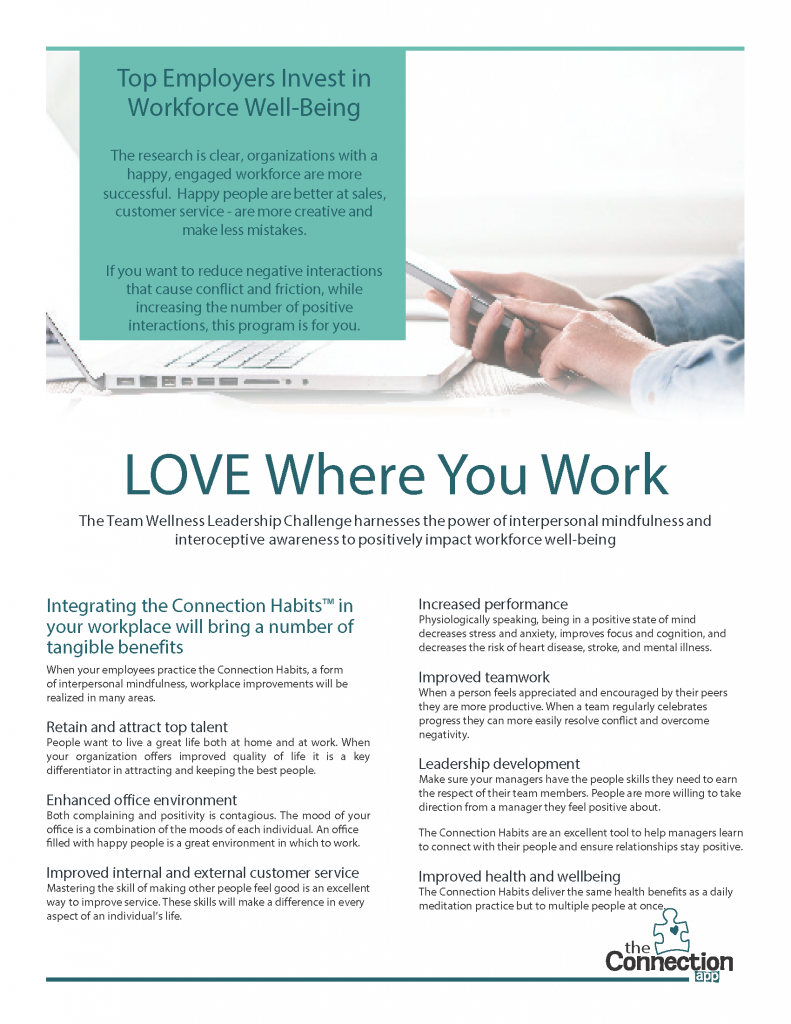 Science Backed Actions that Quickly Build Trust and Rapport
Sales depends on trust and your prospects liking you. Learn how to do that quickly and easily and your sales results will soar.
In this program you will learn:
The 7 habits to avoid that instantly turn prospects off
How to build trust with people at the subconscious level
What actions are proven to create a positive physiological response in people in just seconds
Tips on how and when to use the Connection Habits to supercharge your sales process
Why old school rapport building tactics may be counterproductive
How your brain gets wired for negativity and what to do about it
Why knowing isn't enough to get new results and the science backed way to change your behaviour
The secret to selling to millennials (fastest growing market for B2B)
Bonus results you will get from the training:
Leadership Development
Improved Corporate Culture
Resolve Conflicts Faster
Improved Relationships at Home
Be Happier, Healthier and More Satisfied
Do the Challenge
For a Chance to Win!
Participate in Challenges — and create a deeper & more meaningful connection with your partner — and be entered to win prizes.
Earn one prize draw entry every time you complete and save a Celebration Reflection ("Reflect"), record the Number of times you practised gratitude ("Record") and your Connection Practice Ratings ("Rate") in the App. Record, Reflect and Rate for 5 consecutive days in one week and you will earn an additional 5 entries. Record them for 7 consecutive days in one week and you will earn yet another 5 entries.
1st Prize
A performance by award winning comic Greg Ketner ($1,500 value) at your next function.
2nd Prize
The Team Wellness Leadership Challenge for up to 100 people from  Connection Apps Inc. ($2,500 value).
3rd Prize
a $100 gift card to your favourite local business.
No purchase necessary.
Download our Apps for your
choice of mobile device:
Ready to accept the Challenge?
The Connection App for Business
Love Where You Work!
If you can raise your brain's level of positivity in the present, you will obtain what science calls the happiness advantage. In fact, every single business outcome improves when you are happy or feeling positive.
Shawn Achor — Harvard Professor,
and author of The Happiness Advantage