Join the HumorLab 10,000 acts of Gratitude Challenge!
Let the people in your life know how much you appreciate them and help us generate a 10,000 acts of Gratitude.
This challenge includes a daily dose of laughter and some training to help you become expert at making the people in your life feel loved and appreciated. WIN-WIN
Oh, did we mention you could win prizes too?
Download the App to get expert tips, timely reminders and enter to win.
Each day you will get a reminder to enter the number of times you shared gratitude. We anonymously put everyone's numbers together and will publish the total here! After you download the App and create an account, find and join the free *HumoLab 10,000 Acts of Gratitude Challenge.

Acts of Gratitude so far: 8118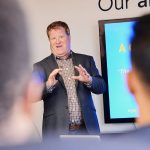 Greg Kettner is a International Keynote Speaker, Happiness Coach and Podcaster who is a 27-year sales veteran with over $12 million in sales. Greg empowers and inspires audiences around the world to be the very best they can be.  His passionate stories will engage you, make you laugh and touch a tender part of your heart too.
Greg is also a world-class connector who's spent time with hockey icon Wayne Gretzky, shared the stage with comedian Robin Williams and almost knocked over Queen Elizabeth II.
Greg has spoken to and entertained corporate clients such as Coca Cola, Ford, SAP, Trane, Fraser Health, SunLife Financial, and the Vancouver 2010 Winter Olympic Games.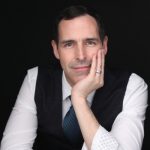 Rnold Smith is President and Chief Visionary for Connection Apps inc. Our mission is to help people develop the habits that lead to happiness, life satisfaction and human connection. He is the author of the upcoming book, The Connection Habits at Work, How 7 Tiny Relationship Habits Create Happy Productive Teams. 90% of people who do the Connection Habits at Work Challenges say that they will change the way they live their life from now on because of their participation in the challenge. People learn by... _____? Let me help you, help them take action.
Do the Challenge
For a Chance to Win!
Participate in Challenges — and create a deeper & more meaningful connection with your partner — and be entered to win prizes.
Earn one prize draw entry every time you complete and save a Celebration Reflection ("Reflect"), record the Number of times you practised gratitude ("Record") and your Connection Practice Ratings ("Rate") in the App. Record, Reflect and Rate for 5 consecutive days in one week and you will earn an additional 5 entries. Record them for 7 consecutive days in one week and you will earn yet another 5 entries.
1st Prize
A performance by award winning comic Greg Ketner ($1,500 value) at your next function.
2nd Prize
The Team Wellness Leadership Challenge for up to 100 people from  Connection Apps Inc. ($2,500 value).
3rd Prize
a $100 gift card to your favourite local business.
No purchase necessary.
Download our Apps for your
choice of mobile device:
Ready to accept the Challenge?
The Connection App for Business
Love Where You Work!
If you can raise your brain's level of positivity in the present, you will obtain what science calls the happiness advantage. In fact, every single business outcome improves when you are happy or feeling positive.
Shawn Achor — Harvard Professor,
and author of The Happiness Advantage